Upcoming Litters in 2018
Finnoula and Bestland's Opi are expecting a litter of medium size pups at the end of August. – Litter Full
Jewel and Aussidog's Love at First Sight (aka Quinn)  A litter of mediums is planned for the fall. – Litter Full
A standard litter is planned for the end of the year from Lily (daughter of Violet)
Lily has just been certified as a Bright Spot Therapy dog!
Litter-Full
We are planning a few litters for the winter, though the exact pairs have not been determined. We are planing a litter of standards from Olive or her daughter Ivy (both chocolates) and a medium litter from Camy and Quinn. We will take applications for these litters now but we will take applications for our spring litters in January.
Thank you for your patience!  ~Sunny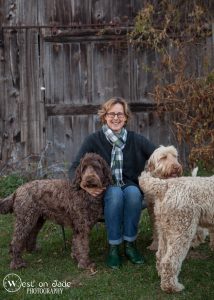 We are starting to take applications no further than 6 months ahead. We have a better idea of what litters are expected this way and our families can plan around it. Thank you, Sunny
Please email: Berkshirehills@me.com  Put "application" in subject line.
Local Guardian Home needed for 7 month old Becket!
Stonewall Manor's Becket is only 7 months old and will be a standard. He has a wonderful temperament and is very people oriented. He will make a wonderful therapy dog. I can't wait until he sires our future therapy dogs!
A guardian home raises one of my breeding dogs until the dog retires. When the dog retires the ownership is transferred to the guardian family and the dog does not need to be rehomed. It is kind and ethical. There is no charge for our guardian dogs but the guardians must carry pet insurance for the length of the contract.
Guardian home must live in the Pioneer Valley (Western MA) Please only email if you meet that requirement. Please email for more information. Berkshirehills@me.com
Thank you!  ~Sunny
•We will give priority to people who will utilize our dog's therapy abilities (therapists, schools, personal needs, etc.)
•We place our puppies in homes where an adult is home most of the day to socialize the puppy.
•We will fly puppies if accompanied by a person in cabin.
•We don't place puppies in families where there are 2 children or more under the age of 6.
• We don't place our puppies with people who intend to use a prong or choke collar.
Warmly,   Sunny (with Olive and Paloma, my big girls!)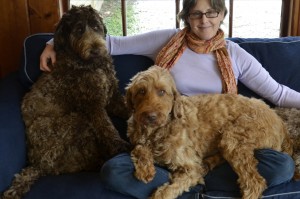 We have only a limited number of carefully planned litters a year. Thank you for your patience and interest in our dogs!  ~Sunny