We have closed our reservations for 2019. If we have availability later in the year, we will open up the reservation list and post it here.
Thank you so much for your interest in our puppies!
Local Guardian Homes needed for several puppies!
This is a rare and wonderful opportunity for the right people!
We have one male and one female we are keeping in our breeding program and we are looking for exceptional homes that will raise, train and care for one of them throughout his or her breeding career. In exchange for providing a home for one of our breeding dogs, ownership will be transferred to the Guardian family when the dog is retired from his/her breeding career. Please email for more information if interested and you if live in the Pioneer Valley.
Our boys must live within 20 miles of Northampton, MA Though a girl could be within 45 minutes.
Guardians needed for:
Wickersham Duffy
Duffy will grow to be a small standard. This beautiful boy has a delightful personality and loves people. He will be a great mate to our larger girls!
 

Berkshire Hills "Izzy's girl"
We are keeping back one of Izzy's girls from her last litter! She had 3 girls and once they are older and we can assess them we will chose which girl will make it into our breeding program. She will be able to go to her guardian home at the end of April.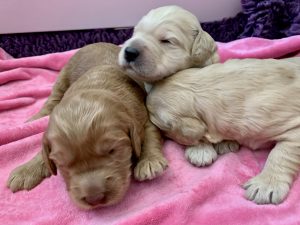 Please email for more information: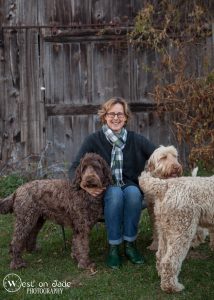 •We hold spots for people who will utilize our dog's therapy abilities (therapists, schools, personal needs, etc.)
•We place our puppies in homes where an adult is home most of the day to socialize the puppy.
•We will fly puppies if accompanied by a person in cabin.
•We don't place puppies in families where there are 2 children or more under the age of 7.
• We don't place our puppies with people (or their trainers) who intend to use a prong, choke, or shock collar.
Warmly,   Sunny (with Olive and Paloma, my big girls!)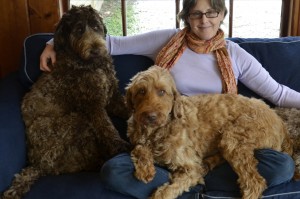 We have only a limited number of carefully planned litters a year. Thank you for your patience and interest in our dogs!  ~Sunny