AVAILABLE
We are now taking reservations for Berkshire Hills Joon and Wickersham Duffy's litter planned for the winter 2020. They will be small to regular size standards probably in chocolates! They will most likely will be born in January and going home in March.
Norah and Truman are planned to honeymoon at the end of the year with puppies probably being born in February/March and going home April/May. These puppies will be mediums ranging around 30-40 lbs.  I am expecting caramels, reds and creams.
Norah's last (and first) litter:
Please email for an application: BerkshireHills@me.com
Thank you so much for your interest in our puppies!
Local Guardian Homes needed for several puppies!
This is a rare and wonderful opportunity for the right people!
This summer and fall we will be looking to place a couple of females that we will keep in our breeding program.  We are looking for exceptional homes that will raise, train and care for one of them throughout his or her breeding career. In exchange for providing a home for one of our breeding dogs, ownership will be transferred to the Guardian family when the dog is retired from his/her breeding career. Please email for more information if interested and you if live in the Pioneer Valley.
Please email for more information: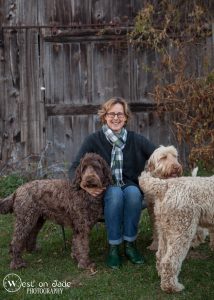 •We hold spots for people who will utilize our dog's therapy abilities (therapists, schools, personal needs, etc.)
•We place our puppies in homes where an adult is home most of the day to socialize the puppy.
•We will fly puppies if accompanied by a person in cabin.
•We don't place puppies in families where there are 2 children or more under the age of 7.
• We don't place our puppies with people (or their trainers) who intend to use a prong, choke, or shock collar.
Warmly,   Sunny (with Olive and Paloma, my big girls!)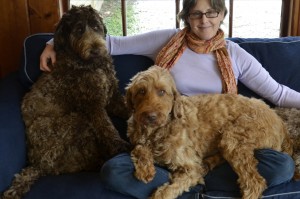 We have only a limited number of carefully planned litters a year. Thank you for your patience and interest in our dogs!  ~Sunny