We are closing our reservations for 2018 for now. If you have emailed for an application already I will get back to you with availability.
Please check the ALAA or the ALCA for other breeders.
Thank you!  ~Sunny
•We will give priority to people who will utilize our dog's therapy abilities (therapists, schools, personal needs, etc.)
•We place our puppies in homes where an adult is home most of the day to socialize the puppy.
•We will fly puppies if accompanied by a person in cabin.
•We don't place puppies in families where there are 2 children or more under the age of 6.
• We don't place our puppies with people who intend to use a prong or choke collar.
Warmly,   Sunny (with Olive and Paloma, my big girls!)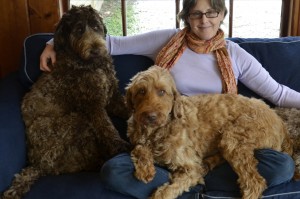 We have only a limited number of carefully planned litters a year. Thank you for your patience and interest in our dogs!  ~Sunny