Introducing:
"A THERAPY DOG IN EVERY SCHOOL" initiative
One of my passions is getting therapy dogs in schools. I believe every school should have one on a permanent basis or have a visiting therapy dog.
Our children suffer from more anxiety than any other generation. Dogs make us feel safe and help us let our guard down. They let us take a deep breath and relax.
The children I fostered in the past would have had a totally different experience if they had a therapy dog in their schools. Some of them were so traumatized that they didn't feel safe in their classrooms.
My daughter was recently in a college campus lock down for a suspected shooter in the building. She told me that she and her fellow students were  distraught and crying, but the next day  a big therapy dog came to visit and slathered her in kisses, she was able to finally take a normal breath and let some of the trauma go.
This summer 2019, I am holding spots on my early summer litters for schools. This will give the handler time to get some basic training down before the start of school.
If you are interested please check out these resources and if you can get the required permission and funding I will reserve a spot for you.
Resources
Charlotte's Litter Resource on getting a program set up in your school: http://charlotteslitter.org/wp-content/uploads/2014/09/Educator_Resource.pdf
Working with therapy dogs in school https://www.schooltherapydogs.org
Therapy Dog training. https://bright-spot.org/blog/  https://www.tdi-dog.org/default.aspx
Book: Service Trained Facility Dogs by Catherine Ricchetti. https://www.amazon.com/Service-Trained-Facility-Catherine-Ricchetti/dp/0979963931/ref=sr_1_1?ie=UTF8&qid=1546978752&sr=8-1&keywords=catherine+ricchetti
Please ask for our school application. We are also taking pet applications for the summer and fall of 2019 now.
Please email for more information: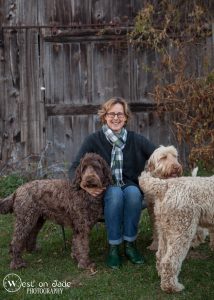 •We will give priority to people who will utilize our dog's therapy abilities (therapists, schools, personal needs, etc.)
•We place our puppies in homes where an adult is home most of the day to socialize the puppy.
•We will fly puppies if accompanied by a person in cabin.
•We don't place puppies in families where there are 2 children or more under the age of 6.
• We don't place our puppies with people (or their trainers) who intend to use a prong, choke, or shock collar.
Warmly,   Sunny (with Olive and Paloma, my big girls!)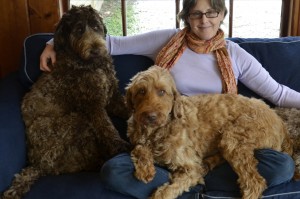 We have only a limited number of carefully planned litters a year. Thank you for your patience and interest in our dogs!  ~Sunny