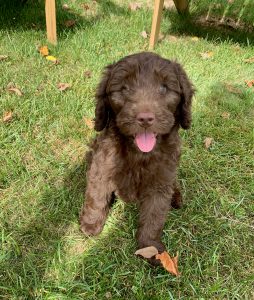 We are seeking a local guardian home for our new medium size chocolate stud puppy! Guardian families raise one of our breeding dogs so the dog can also have a wonderful life as a beloved pet. When his breeding career is through he retires in the home he's grown up in. This boy must be in the Pioneer Valley, so please only contact me about guardianship of this breeding boy if you are local.
For more information please send an email with the subject line: Guardian
Thank you, Sunny
Our fall/winter litters are full.  Our spring litters will open up for reservations at the end of the year.
We are taking a break until November in order to renovate our puppy and dog space. Our office hours will be limited to one day a week.
Thank you so much for your interest in our puppies!
•We hold spots for people who will utilize our dog's therapy abilities (therapists, schools, personal needs, etc.)
•We place our puppies in homes where an adult is home most of the day to socialize the puppy.
•We will fly puppies if accompanied by a person in cabin.
•We don't place puppies in families where there are 2 children or more under the age of 7.
• We don't place our puppies with people (or their trainers) who intend to use a prong, choke, or shock collar.
Warmly,   Sunny (with Olive and Paloma, my big girls!)
  We have only a limited number of carefully planned litters a year. Thank you for your patience and interest in our dogs!  ~Sunny