Our Boys
Introducing: Wickersham's Duffy
Duffy  is a big energetic young man with a gentle heart. He reminds me of Kipling at this age. He has passed all his health testing with flying colors and has sired gorgeous puppies in all colors! Duffy lives with his wonderful guardian family, Lee and Elizabeth.
Introducing: CVL President Truman
Truman is a big red boy who loves his life! He spends his week days with his guardian, Kristen at the UMass apple orchards running around and making friends. At home he loves on his young boys and Kristen's husband, Greg. He has produced our first litter with Jewel, all red delicious puppies! He is clear for all his health tests.
 Berkshire Hills King of the Hill (Kingsley)
Kingsley is the majestic son of Eleanor and Buddy. He has the conformation and coat of Buddy and the sweetness of Eleanor! At 55lbs and 23″ he is a solid standard. Hips are OFA Good, normal elbows, Eyes cleared by CERF. EIC, DM, PRA cleared by parentage.
Stonewall Manor Becket
This new handsome gentle boy has the nicest black fleece coat. I am so delighted by his temperament! He has produced sweet standard size puppies for us, including my beloved Maeve! He lives with Leslie and Kyle along with their two school aged boys. Becket often visits Kyle at the firehouse and lifts the fire fighter's spirits after a challenging day.  He carries for all the colors including cream, caramel, black and chocolate!
Country's Kiss Me Baby  but we call him Buddy!
Buddy is a dream come true! Gorgeous silky chocolate coat, saber tail, beautiful conformation and the nicest easy going temperament around! He is truly the perfect "Buddy." I had been waiting for a dog like this and then Hilary Hammer from Greenwood Park called me to let me know about him-Thank you Hilary!!
Many of his puppies have gone on to do wonderful therapy work, especially in schools!
Buddy is an A3 and has full ALCA certification. He is OFA Good, Elbows normal, Pennhip .45/.47, Thyroid normal, eyes normal. PRA, EIC, DM, IC-all normal.
Bestland Optimus Prime's Pride (Opi)
Opi is our new little guy weighing in at only 28 lbs! He is a confident and playful guy who gets on great with his favorite boy, Marcus and his friends. We are looking forward to his future little puppies!
OFA Excellent hips, elbows normal. Clear of DM, EIC and PRA.
Here are some of his puppies with Jewel and Finnoula.
Introducing our new medium red boy:
Aussiedog's Love at First Sight! (aka Quinn)
Quinn has passed his health testing and is ready to rock and roll! He is 32 lbs and will add greatly to our medium line of pups. Quinn loves people and always seems to be laughing!
Hips OFA "Good", elbows normal,  eyes normal, clear for vWd, PRA, EIC, DM, HNP and NE.
Two of Quinn's breeding female hopefuls!
Our Retired Boys
Sierra Vista Hubbles Law (better known as Kipling)
Kipling…the big boy with the soulful human eyes. As one 6 year old said, "it's like he's trying to speak to you with his eyes."  Calm, gentle and connected, Kipling is the dog that started my therapy lines.  This love lives with us here at Berkshire Hills.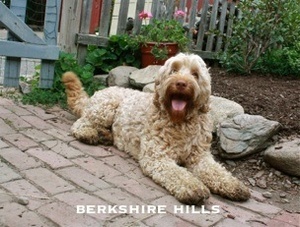 Berkshire Hills Kit Carson (Retired)
Carson is our famous "hugging dog!"
Or as his guardian Thom once put it, he commits "random acts of kindness."
Recently this happened when I had him at the insurance agency. He laid by my feet so patiently
while I spoke to the agent. Seemingly out of the blue, he became motivated to go so gently up to the agent and give her a tender hug!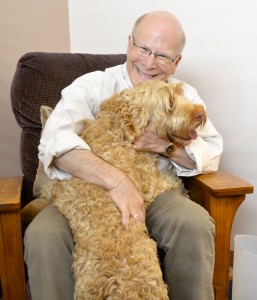 Carson, a therapy dog, is in a loving guardian home and goes to work with Thom as a therapist and gives out gentle hugs to those who need them. Thom and Carson are a powerful healing duo!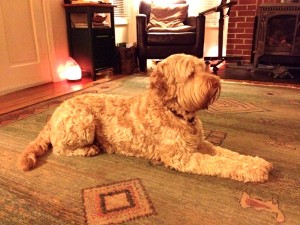 Landmark's Pablo Picasso! 
Pablo is our small standard caramel boy. This easy going and soft hearted boy has sired many of our  puppies. He produces beautiful soft wavy fleece coats in our puppies. Many of his puppies are certified therapy dogs. He has retired with his guardian family, James and Bob.
Pablo is OFA Good hips and normal elbows. Eyes cleared by CERF.  EIC, PRA, and DM clear.
Heartlands Dashiell Hammett (retired)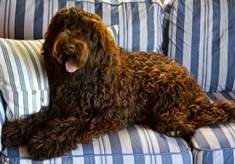 Dashiell has the most amazing calm temperament. Being near him is very grounding, especially when he leans into you and looks into your eyes.
When we had the opportunity  to donate a dog to one of the families who lost their young daughter in the Sandy Hook tragedy there was no question that Dashiell was the dog who could offer the most support in their journey of healing. Being able to offer these dogs for their ability to love and comfort is what its all about and we are so proud of Dash.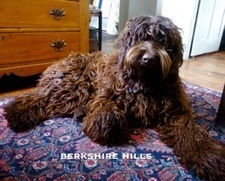 Snug Harbor Kiefer (retired)
Kiefer has produced so many wonderful dogs for us including Violet, Carson, Fig and Olive.
Kiefer is now retired and living the good life with his dedicated guardians, Linda and Robert!