Thank you for your interest in our puppies!
We are taking reservations for 2023! Please email us at berkshirehills@me.com for more information and a reservation form.
We have several medium size mamas and papas, along with our soulful line of standards. The pairings haven't been worked out yet, but we will know in the next month or two.
We don't take calls or answer emails outside of our office hours (Monday-Thursday 10am-3:00pm Friday 10am-12pm)
Warmly, Sunny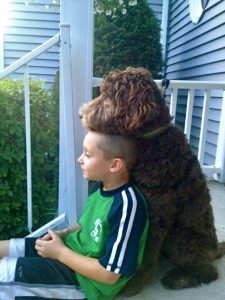 •We place our puppies in homes where an adult is home during the day to socialize the puppy.
•We will fly puppies if accompanied by a person in cabin.
•We don't place puppies in families where there are 2 children or more under the age of 7.
• We don't place our puppies with people (or their trainers) who intend to use a prong, choke, or shock collar.
  We have only a limited number of carefully planned litters a year. Thank you for your patience and interest in our dogs!  ~Sunny