Our Girls
Introducing our girls…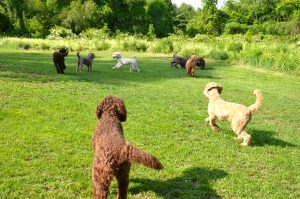 Our Medium girls
Berkshire Hills Jaida
Miss Jaida is the seventh generation of Berkshire Hills dogs. Jaida is athletic and people connected. She lives with her dog mother, grandmother and great grandmother, plus her wonderful humans; Sue and Pat. We kept the sweet and beautiful lil Poet as a potential breeding girl.
Berkshire Hills Mela
Mela is the red and white daughter of Camy and Ocean State Ritchie. She produced a gorgeous litter this summer.  She is a nice solid medium, weighing about 40 lbs, like her mother Camy.
Berkshire Hills Callaway
Callaway is a sweet and sophisticated medium size girl from our Gracie and Quinn. She is a very smart girl. Her guardians taught her to speak with "buttons!"
Berkshire Hills Coco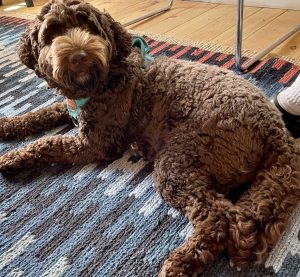 Coco is a lovely chocolate girl (yes, chocolate!) She is the daughter of Maisie and Stonewall Manor Snoop-dog, yet is the size of her mama, a medium. We are looking forward to her first puppies this winter!
Berkshire Hills Allana
Allana is our up-and-coming girl from Norah and Lewis Manor's Moose. She is growing up to be such a beautiful and gentle dog. Her guardian says that she is very intelligent and affectionate. She is by far the easiest puppy she has trained. She will start her therapy training after her first litter expected sometime in the sporing of 2023.
Berkshire Hills Cassidy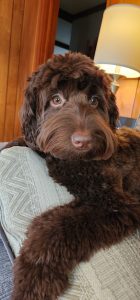 Cassidy is sister to Allana, but is a bit smaller. Her guardians say, "Cassidy is a sweet, silly, gentle girl who loves to play and cuddle. She is incredibly attuned to emotions and will find her way into the lap of anyone in need of a little extra love. Cassidy's family is over the moon in love with her and those soulful eyes capture the heart of all that meet her. Even the cat agrees she's pretty great.
She's 18" & 29 lbs.
Our Standards
Berkshire Hills Addie
Addie is a gorgeous caramel standard girl. The daughter of Izzy and Becket. We are very excited for her first litter early 2021!
She lives in a gorgeous home with Andrea and Ryan.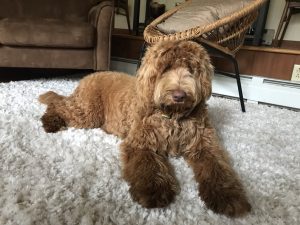 Berkshire Hills Maeve
My little redhead Maeve! She is the standard daughter of Ivy and Becket. She lives here at Berkshire Hills and is my right-hand girl.  She is a nice balance of confidence and affection. She has proven to be a very attentive and efficient mother! Her babies are fat and content.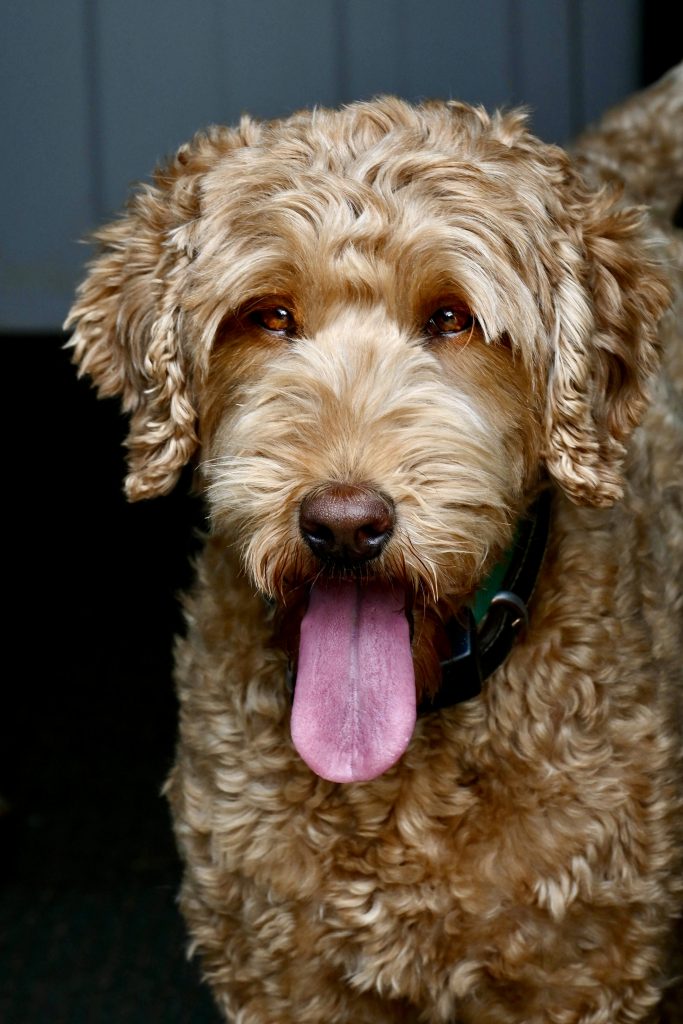 Berkshire Hills Raven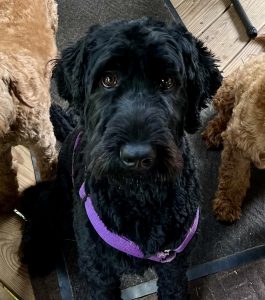 Raven is Maeve's little sister and she is expecting her first litter early 2023! She lives with our largest guardian family, which includes Josephine, Jasmine, Jewel and Jaida! Raven is a gentle being with a gorgeous black coat.
Berkshire Hills Wynona and Moby
Wynona (Nona) and Moby (Mo) are very special pups! They are from a breeding via frozen sperm from my foundation dog, Kipling! Kipling is the dog who brought the soul into my lines 18 years ago. I look so forward to kicking off the Kipling line from the beginning!
Our beautiful retired dogs
We only breed our dogs for a limited time while they are in their prime. Then they retire here at Berkshire Hills or if they are in a guardian home, well, then they are already home!
Alice has been trained to do therapy work, Pearl predicts night terrors, Hazel, and her mom are therapists, Willa dresses up in boas and attends art class, Poppy watches over kids, Louise and her sisters Eva and Lu Lu hike together, Winnie cuddles her new human grandson…..and Kipling, Eleanor, Pip and Paloma keep Sunny warm in bed.
Here are the magnificent dogs that have made up Berkshire Hills Australian Cobberdogs' breeding program!
Berkshire Hills Mabel Dodge (2005-2017)
Mabel came from my very first litter. Daughter of my Cherry Willa and Tegan Park Baby Joey, she became my heart and soul. We called Mabel the "doula" and "nanny" because she loved all of the puppies! She literally helped me deliver the puppies and then played and cleaned them up until they went home.
Berkshire Hills Lillian (aka Violet-retired)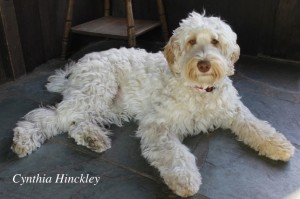 Violet trained her first year with Cynthia Hinckley, founder and president of Bright Spot Therapy Dogs. Violet is a very quick learner and became a certified Bright Spot Therapy Dog on her first birthday.  Violet loves people of all ages.  She is extremely friendly and outgoing, making her a perfect therapy dog.  She started her therapy work with fourth graders at the Westhampton Elementary School who read books to her as part of the Bright Spot Reading Buddies Program.  Violet now works and lives with Gabrielle, who is a therapist working with adolescence and adults. Violet attends every day making people's lives easier to manage.

  
Berkshire Hills Eleanor (retired)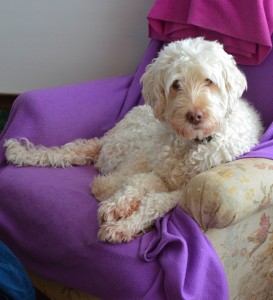 Sweet, sweet Eleanor! The snow white daughter of Tasha and Kiefer. Eleanor is a standard girl (22″/48 lbs) with the gentlest soul.
Her nicknames are Angel, Snowy, Mother Teresa…well you get the point, she has an angelic personality.
As usual, in the morning, I let the dogs out and they all run up the hill. Eleanor likes to return immediately and give me a special "good morning." One morning she came back to say good morning, but this time she used her leg to hug me! Oh God, I love her!          Eleanor lives here at Berkshire Hills.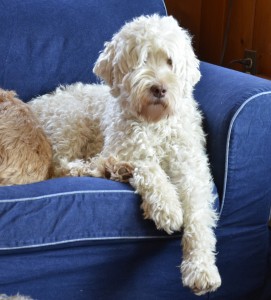 Berkshire Hills Olive Mae (retired)
Olive is the daughter of our Millicent and Kiefer (and Mabel's granddaughter). She is tall (23″) and ever so gentle like her mother and looks just like her!  She lives with us at Berkshire Hills and is my ZEN companion.
    
Berkshire Hills Ivy (Retired)
Ivy is the gentle daughter of Olive Mae. She has given us both Maeve and Raven!
Berkshire Hills Edie Sedgwick (retired)
Edie is the daughter of Millicent and Buddy. Her beautiful coat has stayed darker chocolate which makes her amazing eyes really connect with you. She is a gentle soul and your best friend. She lives in a wonderful guardian home of Janet and Francine along with Berkshire Hills Gaby and their poodle, Desi.
Berkshire Hills Joon
Joon is the daughter of Edie and Pablo. She has a beautiful raven black coat and a regal conformation. Joon has given me the gift of two Kipling babies (via frozen sperm): Mo and Nona.
Atlas Camy Carson's Pride (retired)
Camy came all the way from California, though her father is Berkshire Hills Carson. This gentle soul is now retired and living the good life here at Berkshire Hills.
Berkshire Hills Gracie (retired)
Grace is Finnoula's beautiful daughter. Gracie has gotten to retire in her guardian home along with her mama, Finnoula.
Berkshire Hills Connie Francis (retired)
Franny is the daughter of Cadence and Pablo. She is one of our rare black charcoal dogs. Her conformation is beautiful and she is a small standard. Franny lives with her mother Berkshire Hills Cadence (a Bright Spot therapy dog) and uncle Canton and of course her wonderful humans, Megan and JA.
Calypso Breeze  Jasmine (retired)
Jasmine is the daughter of our Berkshire Hills Casanova (owned by Calypso Breeze) She is a beautiful size at 42 lbs. Jasmine is a gentle soul and has produced therapy dogs for us. She lives with Josephine and Jewels, several cats and her loving guardians, Pat and Sue.
(Jewels on the left and Jasmine on the right)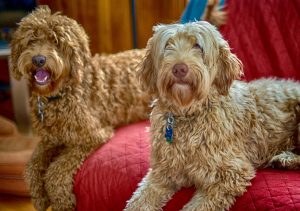 Berkshire Hills Pippilotti (Pip-retired)
Little Pip is one of Pearl and Carson's littlest girls and has created our smaller line of dogs. Pip lives here at Berkshire Hills.
Berkshire Hills Finnoula (retired)
Finnoula is the daughter of Josephine and Pablo and is one of our smaller girls weighing in at 28 lbs!  She lives her retired life with her daughter, Gracie.
Berkshire Hills Norah Jones (retired)
Norah is a medium size girl and daughter of our own Pip!  She has produced beautiful puppies for us. She is an avid hiker and a lover of all people.
Berkshire Hills Maisie
Maisie is the daughter of Camy and Pablo. She is the mother of Mela, Shamrock and granddaughter, Coco. She enjoys an active life in VT.