Our Girls
Introducing our standard girls…
Berkshire Hills Lillian (aka Violet)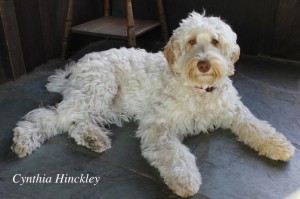 Violet trained her first year with Cynthia Hinckly, founder and president of Bright Spot Therapy Dogs. Violet is a very quick learner and became a certified Bright Spot Therapy Dog on her first birthday.  Violet loves people of all ages.  She is extremely friendly and outgoing making her a perfect therapy dog.  She started her therapy work with fourth graders at the Westhampton Elementary School who read books to her as part of the Bright Spot Reading Buddies Program.  She also visited with residents at the Linda Manor Extended Care Facility in Leeds.  Violet lives here at Berkshire Hills.

  
Berkshire Hills Eleanor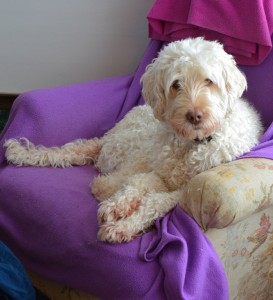 Sweet, sweet Eleanor! The snow white daughter of Tasha and Kiefer. Eleanor is a standard girl (22″/48 lbs) with the gentlest soul.
Her nicknames are Angel, Snowy, Mother Teresa…well you get the point, she has an angelic personality.
As usual, in the morning, I let the dogs out and they all run up the hill. Eleanor likes to come back right away and give me a special "good morning." One morning she came back to say good morning but this time she used her leg to hug me! Oh God, I love her!          Eleanor lives here at Berkshire Hills. Eleanor will retire in 2017.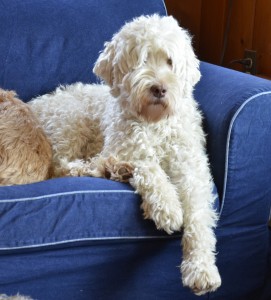 Berkshire Hills Olive Mae
Olive is the daughter of our Millicent and Kiefer (and Mabel's granddaughter). She is tall (23″) and ever so gentle like her mother and looks just like her!  She lives with us at Berkshire Hills and is my ZEN companion.
 
Berkshire Hills Edie Sedgwick
Edie is the daughter of Millicent and Buddy. Her beautiful coat has stayed darker chocolate which makes her amazing eyes really connect with you. She is a gentle soul and your best friend. She lives in a wonderful guardian home of Janet and Francine along with Berkshire Hills Gaby and their poodle, Desi.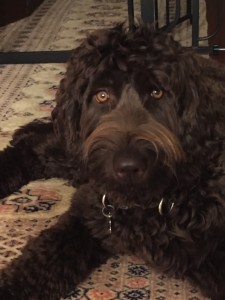 Berkshire Hills Vivian Maier
Vivian is the sister to Edie. She lives with a Berkshire Hills family as a guardian. She is also a standard. We are so excited to welcome her first litter this summer!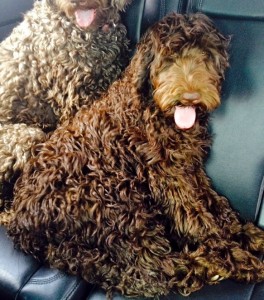 Berkshire Hills Little Bee (Izzy)
Izzy is the daughter of Olive and Buddy and lives with Brian and Jaime along with their children. She is a social and easy going girl who looks like a big brown bear! She is having her first litter with Pablo this Spring!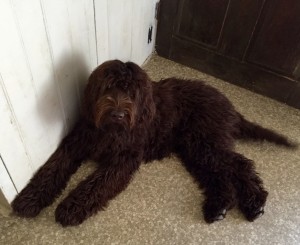 Berkshire Hills Connie Francis
Franny is the daughter of Cadence and Pablo. She is one of our rare black charcoal dogs. Her conformation is beautiful and she is a small standard. Franny lives with her mother Berkshire Hills Cadence (a Bright Spot therapy dog) and uncle Canton and of course her wonderful humans, Megan and JA.
Atlas Camy Carson's Pride
Camy (Camille)  is just so perfectly put together and weighing in at 38 lbs makes her a true medium. She looks just like her father, Carson and has his gentle nature. She had her first litter with Pablo this Spring and they are gorgeous!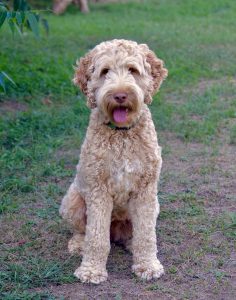 Calypso Breeze  Jasmine
Jasmine is the daughter of our Berkshire Hills Casanova (owned by Calypso Breeze) She is a beautiful size at 42 lbs. Jasmine is a gentle soul and has produced therapy dogs for us. She lives with Josephine and Jewels, several cats and her loving guardians, Pat and Sue.
(Jewels on the left and Jasmine on the right)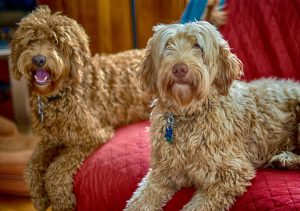 And our smaller girls…
Introducing 
Berkshire Hills Finnoula 
Finnoula is the daughter of Josephine and Pablo and is one of our small girls weighing in at 28 lbs!  We are looking forward to her first litter in the Fall.
Berkshire Hills Jewels
Jewels is Finnoula's sister but she is a bit larger at 37 lbs ands a deeper caramel coat. She will also have her first litter this Fall!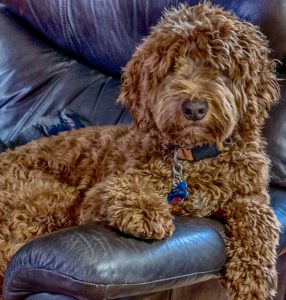 Berkshire Hills Pippilotti
Little Pip is one of Pearl and Carson's littlest girls.
At 28 lbs, she is a small medium sized dog.
But don't let her size fool you, she is one of our most athletic dogs here! She goes jogging with one of our neighbors and can't get enough of her tennis ball.  She has a big dog personality in a little dog's body. She is super affectionate and her coat is luscious and silky, a true delight to snuggle with!
Pip lives here at Berkshire Hills
Our beautiful retired dogs
We only breed our dogs for a limited time while they are in their prime. Then they retire here at Berkshire Hills or if they are in a guardian home, well, then they are already home!
Alice has been trained to do therapy work, Pearl predicts night terrors, Hazel and her mom are therapists, Willa dresses up in boas and attends art class, Poppy watches over kids, Louise and her sisters Eva and Lu Lu hike together, Winnie cuddles her new human grandson…..and Kipling, Mabel and Paloma  keep Sunny warm in bed.
Here are the magnificent dogs that have made up Berkshire Hills Australian Labradoodles' breeding program!