Merry Christmas!
It has been a busier week here at Berkshire Hills than anticipated.
Christmas eve day started for Kipling, Mabel and I with a hike along with friends and 13 other Berkshire Hills dogs! What a beautiful walk.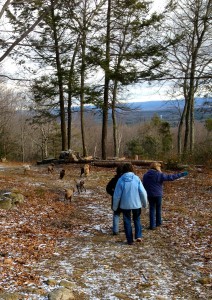 As soon as the hike was over I ran Cadence over to Rhode Island for her date with Ocean State's Buster. It was love at first sight and what a beautiful pair they make! I love Buster's red spots and solid little body. He was a real gentleman, too. We are expecting puppies 9 weeks from now, I am so excited! By time we got there the sun was setting so I could only get this blurry photo.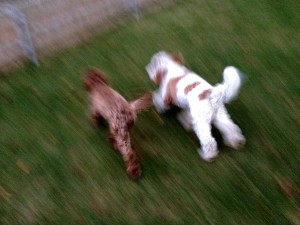 Christmas morning brought lots of smiles from the dogs (the humans, too!) Looks like Santa brought the muppets their favorite toys again this year!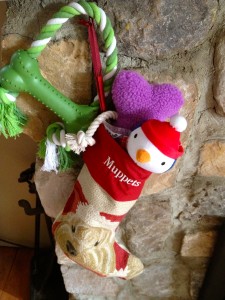 Off to Grandmothers we go for a Christmas breakfast. Pippi put on her winter coat, but wasn't terribly excited to leave the couch. Growing puppies is hard work! But she was a good sport and trotted into Grandma's house.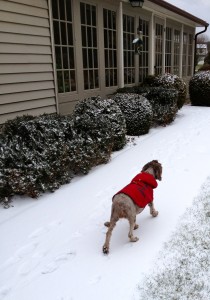 Finally she got to go back to her couch and warm up. Though, I am beginning to wonder if  we may get another Christmas surprise today!
I am making a Christmas roast and if you remember last Easter, as soon as I put the roast in the oven and my guests started to arrive Pearl started delivering her puppies! Please Pip, not today!
Though little Christmas muppets would be adorable…..
Merry Christmas and Happy New Year!  ~Sunny