Getting Ready for your Puppy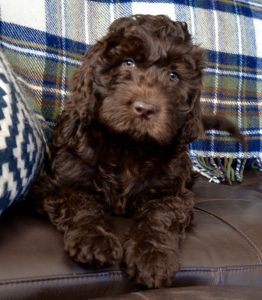 My favorite thing to do is write down a list of names for the new puppy, but there are other things to do to get ready for your puppy's arrival that are just as important.
Find a Vet.  If you don't have a vet already you'll need to find one. Ask around for a good recommendation. Once you know your puppy's arrival date then make an appointment within three days of his or her homecoming. Your vet will suggest a vaccination schedule, please find a vet who is open to minimal vaccinations and healthy real food diet.
2. Dog-Proof Your Home Prepare your home before your new dog arrives. Move breakables or "chewables" to higher ground. Make electrical cords inaccessible to curious paws and noses. Block off any area of the house that you want off-limits to the dog. Put the lid down on your toilet and your shoes up in your closet. Block access to any house or garden plants that may be toxic to dogs.
3. Order a Name Tag. Once you pick out your puppy's name, order a name tag with your telephone and address. A cell# is helpful for when you travel. Bone shaped tags can get caught between the wires on a crate, so a round one is a better choice.
4. Buy a Collar and Leash. You'll need an adjustable collar (around 8-16" ) for a medium or standard. Please don't use a choke, prong or shock collar!  A 4-6' leash is a good all around length. I suggest you don't use the retractable leash because it can be dangerous if the lead gets tangles around people to things.
5. Buy a Crate!  A crate is a must for the safety of your puppy. Buy one that will fit your dog when full grown. One that is 36"Lx27"Hx24"W (large) will fit a medium-standard size Cobberdog. Find one that comes with a divider. I suggest a folding metal crate because it is cooler and the dog can see out. One that folds can easily be packed up and taken with you on a trip. A second crate is handy for night time while your puppy is sleeping next to your bed.  A plastic one is fine for this.
6. Crate Mat: Sherpa Mats are the safest to use with puppies as they are pretty hard to chew. Please do not put a towel in your puppy's crate because if they chew and injest parts of the towel the strings can cause a blockage.
7. Get your puppy  water and food dishes.
 8. Toys and more toys!  Your puppy needs to chew and chew and chew. Suggestions are strong rubber and nylon toys, deer antlers, and kongs.
9. Training   Start looking around  for an obedience class (puppy class) that uses positive and relationship based training.
10. Books I recommend, The Puppy Primer by Patricia McConnell. You will also be given my book "Raising Your Soft Natured Puppy, Shaping Your Puppy to Become a  Connected Companion and Therapy Dog" which has methods and suggestions that are made for Berkshire Hills puppies.
11. Pet insurance. I highly recommend getting it at least while your puppy is younger. An emergency surgery to remove a sock or some other object can be in the thousands. Ask your vet which ones they recommend.
12. Grooming Supplies 
Slicker brush: Slicker brush comes in several sizes. I like a smaller one for when they are puppies and it is handy for their legs and heads once bigger. A larger one is good for when they are full grown.
Nail cutters: There are two kinds; the guillotine style and one with a stop. I find the guillotine style gives you more control, but it's a personal choice.
Shears/scissorscan be very expensive but a basic pair with rounded ends are the safest choice for around the eyes, paws, and under ears.
 Shampoo: Find a natural shampoo made for puppies that is gentle and tear-less. You should not use a human shampoo on your dog.
Ear Cleaner
Styptic Powder: stops bleeding if you cut the vein in the nail.
Other Useful Items:
 Stain and odor remover such as Nature's Miracle (get one with that has an enzyme to eliminate urine odors)
Metal gates with doors that swing open are wonderful to have. We use them all over the house when needed (they are spring mounted and can be moved)